In this context, the association Next Generation Africa was awarded for their work. Along with the Rupert Neudeck Medal, the ONE WORLD Medal is the highest award of the Ministry. Since 2019, it has been awarded for outstanding personal commitment to the implementation of the 17 Sustainable Development Goals of the United Nations (UN).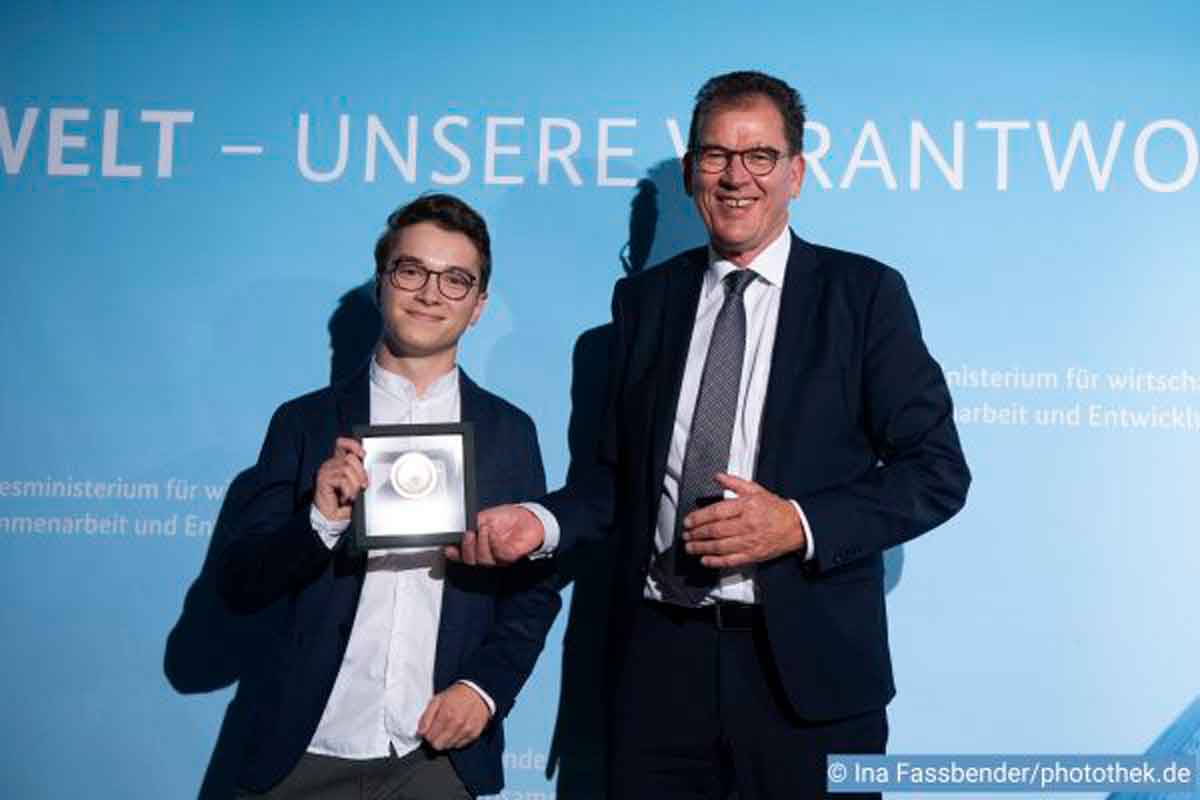 The co-founder and leader of the association, Frederik Bachmann, sees the medal not only as a recognition of the work he has done so far, but also as an incentive for future commitment: "All of us from the Next Generation Africa team are overjoyed and grateful for this award. It is a huge motivation for our further path in the project – and there is still a lot ahead."
The non-profit Next Generation Africa uses a digital, sustainable approach to help provide access to quality education worldwide. As moderator of the event, Eckart von Hirschhausen asked Bachmann about the origin and mission of the organisation. Frederik Bachmann and Niels Kunz, both from Darmstadt, founded the organisation before they graduated from high school because their partner school in Malawi at the time, like almost all schools in the country, lacked essential educational materials such as books. At the same time, the internet there is unreliable and very expensive. The solution that Bachmann and Kunz developed with local students and teachers is the Xulendo Digital Library. It is a mini-server that stores the learning content required by the curriculum. Once the digital library is installed at a school, videos, books, science simulations and much more can be accessed from it – without the need for the internet.
After the initial prototype, the two initiators developed the project concept in a pilot phase from 2017 to 2018 and evaluated it scientifically at the Center for Advanced Internet Studies (CAIS) in Bochum. As CAIS Fellows, Bachmann and Kunz benefited from a network of experts in digitisation research. "The international Fellow programme remains another important building block of our institute. Examples such as the Malawi project show how such ideas can make a difference in the long term and, above all, in practice," says Tim Pfenner, Managing Director at CAIS.
The success is also reflected in figures: At the eight project schools, more than 10,000 pupils have already been given access to modern, vivid learning content. Even during the pandemic, Next Generation Africa found creative solutions to bring digital learning content to the students' homes, e.g. via WhatsApp. Currently, the organisation produces digital textbooks with Malawian authors, which are made freely available throughout the country. The projects are financed through donations.
You can find more information about Next Generation Africa on their Instagram account and on their website.