We find the right contact person for your digitization topic.
Are you interested in our research programs and looking for expertise in the field of digitization research? You need text or image material about our research institute or our events?
Our researchers are available for interviews, background discussions and scientific statements. We will help you to find the right contact person at CAIS.
Dr. Esther Laukötter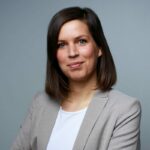 Science Communication and Press Relations Officer
esther.laukoetter@cais-research.de
Key Facts

Research program 1
Title. Digital Democratic Innovations
Who? Head: Prof. Dr. Christoph Bieber and two interdisciplinary research groups
When? Start October 2021 – October 2026
Research question: How do political decision-making and social participation change under the conditions of digitalization?
Empirical focus:
1) Development and use of online voting and elections.
2) Political and social effects of smart city projects.
Want to know more? This way.
Key Facts

Research program 2
Title. Educational Technologies and Artificial Intelligence
Who. Prof. Dr. Nikol Rummel and research team
When. Start: June 2022 to June 2027
Research question: How can digitalization be used positively in an educational context? How can learners be supported by intelligent systems?
Empirical focus:
1) Issues of design and technical implementation of digital learning environments.
2) Challenges and opportunities of teaching in digital environments.
Want to know more? This way.
Key Facts

Center for Advanced Internet Studies (CAIS)
ChatGPT, how many people already know you?
Current study shows that the new chatbot is known to almost 30 percent of the German population.
Do Algorithms Make Opinion? – Guest: Prof. Dr Cornelius Puschmann
What empirical evidence does research find for the filter bubble hypothesis? How personalised are algorithms? How do you actually research them? How should they be...
You don't want to miss any news in the future?
Here you can register for our press distribution list and our newsletter.
Press mailing list
Always up to date: If you do not want to miss any of our press releases, please register for our distribution list for journalists. For more information on data protection and the option to withdraw your consent, click here.
Newsletter
You would like to be informed about the work of CAIS and research activities? Simply subscribe to our newsletter and receive regular notices about projects, events and calls for proposals.
Here you can download printable portraits, logos and other image material.
If you have any questions about use, please contact Dr. Esther Laukötter.
You can find further impressions here.
This could also interest you
Here you can find further research topics and contact persons
What are we researching?
We address digital transformation in all its facets and test our research findings in practice.
Our research encompasses the social, political, economic, cultural and technical changes that accompany digitization. We investigate cross-cutting issues that cannot be researched in a compartmentalized manner. In our research programs, we interlink different disciplinary worlds from the social sciences and humanities to computer science. This holistic socio-technical approach encompasses both basic research and application-oriented questions. We use the results of our research in real laboratories together with actors from different areas of society to find exemplary solutions to concrete problems.
Who does research at CAIS?
We are a team of experienced and young researchers from different disciplines, who are in an intensive exchange with citizens and experts from the field.
Two scientific directors from the social sciences and computer science lead the research at CAIS. Professors from different disciplines coordinate the interdisciplinary research programs. Another professorship leads the Research Data & Methods (RDM) department, and the Ethical, Legal & Social Issues (ELSI) department is home to two professorships and one postdoctoral position. The CAIS has its own programs for the promotion of young researchers, which support them in their professional development.  Dialogue with social groups and the public is organized by our science communication team.
In addition, as an employer we want to realize equality and diversity with a variety of different measures, which are formulated in an equality plan and support the compatibility of gainful employment and care work.
External research excellence is integrated through associated researchers and visiting scientists. We also initiate research partnerships and collaborative projects with partners from universities and other research institutions.
Research activities of our international fellows
How can smart shower heads reduce water consumption? How are municipalities in the USA using data analysis to combat the Corona pandemic? Do online activities harm mental and physical health?
Our International Fellows research digitization topics from very different perspectives. Find a suitable research project here.
Where can I find publications?
This list contains publications related to a fellowship, working group, or event at CAIS. Also listed are publications by team members.
CAIS Reports are work reports produced after the completion of a fellowship.